Control of radiation background in Ukraine
Advance level of background radiation in Ukraine (exposure dose) is 25 microR/hr. According Miniterstva of Environment exposure dose of irradiation is performed at constant (measuring) positions. All these fixed positions of measurements of the radiation background in Ukraine – 155.
Below are maps of background radiation in Ukraine. As can be seen from the maps, background radiation is not the same in the territory of Ukraine. The importance of background radiation affecting a number of factors. The main are: – the conditions of the radioactive composition of the soil (presence of natural radionuclides and radioactive substances that reach the environment by human activities – emissions from thermal power plants using coal, metallurgical plants, etc.). Also, the level of background radiation depends on the time of measurement (eg after rain level of exposure dose rate can be raised by 1-2 microR/hr by washout of radioactive substances from the atmosphere).
Maps of background radiation in Ukraine allow visual analysis of the territory. We can see substantially higher levels of background in areas that are exposed to radioactive contamination after the Chernobyl accident. This is the territory of Kyiv and Zhytomyr regions. Relatively high levels of background radiation in the central regions of Ukraine – Kirovograd and Dnepropetrovsk regions. In these areas, in soils the natural level of radioactivity is very high.
Monthly averages of radiation background in Ukraine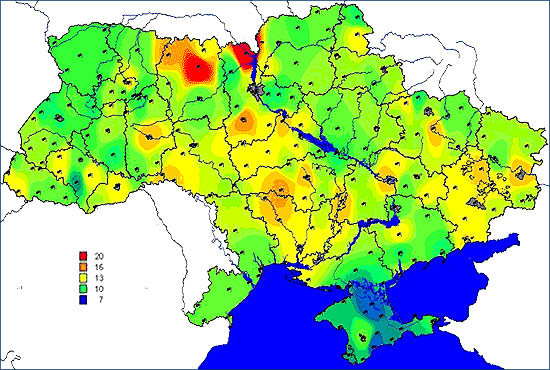 Distribution of the average exposure dose rate of gamma radiation in air on the territory of Ukraine (November 2008), microR/h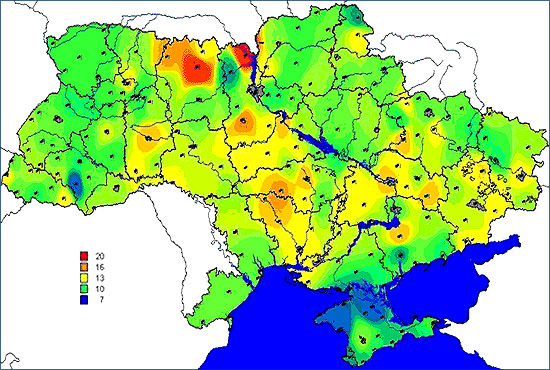 The distribution of average exposure dose rate of gamma radiation in air on the territory of Ukraine (December 2008), microR/h
 Maximum radioactivity in Ukraine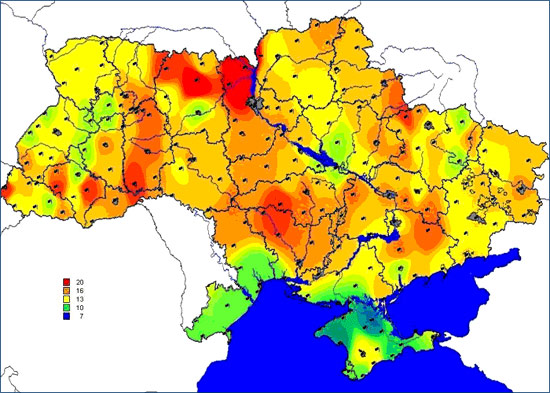 Distribution of the average exposure dose rate of gamma radiation in air on the territory of Ukraine (November 2008), microR/h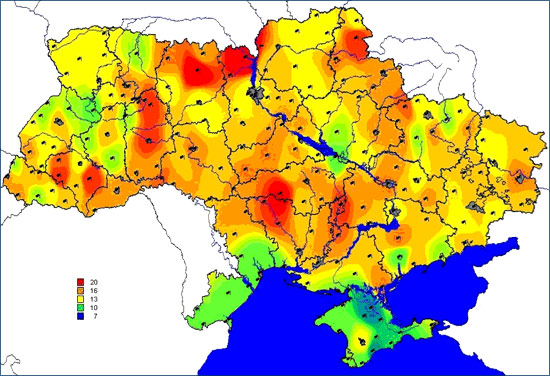 Maximum exposure dose rate of gamma radiation in air on the territory of Ukraine (December 2008), microR/h
Significant levels of background radiation in the Donetsk region attributable to the significant man-made pollution. Scientific term of this process is called – techno-enhanced background radiation.
Periodically, an increase in the values of natural background with 8-16 microR/hour to 18 microR/hour (in Kharkiv and Ivano-Frankivsk region) and up to 19 microR/h in the Transcarpathian, Khmelnytsky and Kirovograd areas. These changes are related to the statistical nature of the value of exposure dose of gamma radiation.
   The mean values of exposure dose rate regions of Ukraine:
Crimea – 9 microR/h
Vinnytsia region – 10-12 microR hour
Volyn region – 10-11 microR/h
Dnipropetrovsk region – 12 – 12,5 microR/h
Donetsk region – 13-13,5 microR/h
Zhytomyr region – 14 – 14,5 microR/h
Transcarpathian region – 11-12 microR/h
Zaporozhye region – 11 microR/h
Ivano-Frankivsk region – 10-12 microR/h
Kiev region – 12-13 microR/h
Kirovohrad region – 12 microR/h
Luhansk region – 11,5-12 microR/h
Lviv – 11 microR/h
Mykolaiv region – 13 microR/h
Odessa region – 11 microR/h
Poltava region – 11,5 microR/h
Rivne region – 12 – 12,5 microR/h
Sumy – 12 microR/h
Ternopil region – 11 – 11,5 microR/h
Kharkiv region – 12 microR/h
Kherson region – 10 microR/h
Khmelnytsky region – 11,5 microR/h
Cherkasy region – 12 – 12,5 microR/h
Chernihiv region – 11-12 microR/h
Chernivtsi region – 12-13 microR/h /li>